Misty Mountains: Nong Khiaw To Muang Ngoi
magine a place where time stands still. Where village life happens as it did hundreds of years ago. Where mist-covered mountains wait to greet you in the mornings and there's no rush to do anything but lie in a hammock by the river and let the day drift away. If that sounds like your ideal getaway, then make sure you take the time to head to Nong Khiaw and Muang Ngoi. You can reach Nong Khiaw by land or river. Currently the only way to access Muang Ngoi (also known as Ban Ngoi Kao) is by boat.
One of the prettiest places in Laos – Nong Khiaw boasts stunning limestone peaks, similar to those in Vang Vieng, but without all the backpackers. The bridge over the Nam Ou is an ideal place to take photos at any time of the day, with colourful boats and fishermen below. Ban Saphoun is on the east bank of the Nam Ou and offers the best views and accommodation. Nong Khiaw is on the west and is where you'll find the majority of travel and tour companies. There is a range of activities to do in town – from hiking to kayaking – but most people just enjoy sitting by the river and soaking in the serenity.
A short walk from the bridge on the east side of the river is Pha Tok Cave. This used to be a regional base of the Pathet Lao during the civil war. Next to the tall concrete staircase at the cave entrance you will see a bomb crater, highlighting just how important the cavern was as a place for seeking shelter and safety. For eight years this cave was home to more than 300 people. It was divided into three areas: a hospital section, military section and police section. There are now few remnants of this period in history but you will see a cordoned-off area inside the cave where the former Governor of Luang Prabang sought refuge in 1968 during the fighting.
This lookout is worth climbing to anytime of the day but sunrise is particularly spectacular and well worth the early morning wake-up. It's a very steep path, challenging at times, that takes between 1-1.5 hours depending on your level of fitness. The ascent will take you above the mist to give you 360-degree views of the surrounding peaks and valley below. If the walk up doesn't take your breath away – the view will.
You can catch a public boat to Muang Ngoi from Nong Khiaw which departs daily at 11am and 2pm or you can charter one of the many private boats to head upstream, either way – you will enjoy the scenery as you travel along the river past bamboo forests, traditional villages and farms. Keep an eye out for bright blue Kingfishers, which like to sit on branches of trees overhanging the water.
6. Ban Sopkong / Tad Mok Waterfall
If you're travelling by private boat, consider stopping at Ban Sopkong before you arrive in Muang Ngoi and doing the walk to Tad Mok Waterfall. This village is home to just over 400 people – most of them from the Khmu ethnic group. As you walk through the village, turn right at the T-intersection and you will see a small sign where you can buy a ticket to the waterfall. The locals don't speak English but they are able to point you in the direction of the walking trail, which is pretty easy to navigate. Note that in the rainy season this path is extremely muddy and involves crossing several bodies of water to get to the falls. The scenery is spectacular along the way – lush green rice paddies, towering jungle-covered mountains and a place to cool down at the end of the 45-minute trail. Be sure to take a few bottles of water with you.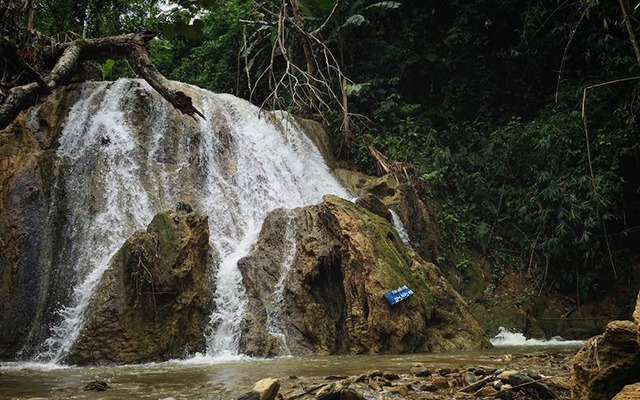 It would be hard to find a better place to lie in a hammock and relax in Laos than Muang Ngoi. This sleepy town, surrounded by towering peaks, has a range of riverside bungalows to choose from as well as open-air restaurants where you can sip a mango shake and marvel at the view. If you're keen on being a little more active, Muang Ngoi is a great base to go on a number of treks to ethnic villages or hire kayaks and explore the river. The sunsets in this town are epic so be sure to be back before dark to take in the colour show.
Just a 30 minute walk out of town, Kaang Cave is worth checking out not because it's overly spectacular inside but because of the crystal clear stream that runs out of the mouth of the cave where you can splash around or have a picnic by. There's a body of water inside this cave that local people consider to be sacred. As with most of the caves in Laos, Kaang was used as a place of shelter during the war for local people. Next to the caves, across a quaint little bamboo footbridge, you will find the most beautiful rice paddies – almost carving an emerald green river through the surrounding mountains. There are a couple of thatched huts either side of the bamboo bridge that are ideal spots to enjoy the shade, scenery and some snacks from your backpack. If you have more energy, head further up the trail to Ban Na to experience village life.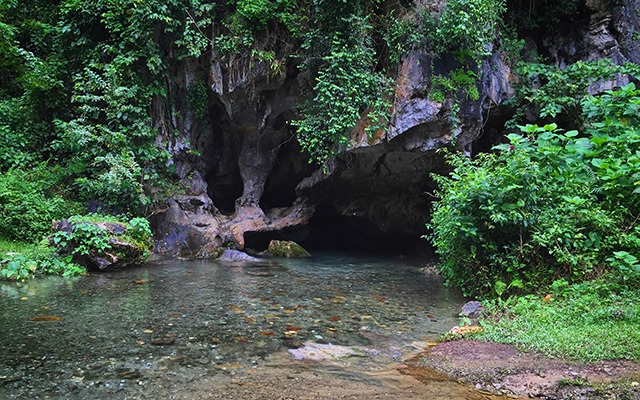 This Khmu village is one of the most idyllic in all of Laos. If you want to spend some time seeing how local people live, we highly recommend a morning excursion to this picturesque place. Your boat will pull up to a small river-beach where you will walk up a path to the town, which is surrounded by jungle-covered peaks. What else will you see? Homes built with traditional material like bamboo and tree branches. Children playing with homemade toys. Women weaving fabric outside their homes. Men make fishing nets. And if you fall in love with this charming village, the good news is there are several homestay options that will allow you to spend more time there.
There are 2 ways to get to NongKhiaw by minivan and buses. Travelling to NongKhiaw at least should stay one night, and to continue to Meuang Ngoi take 1 hour boat trip. There are guesthouses and bungalows are available both between NongKhiaw and Meuang Ngoi.
Minivan Departure:    Luang Prabang to NongKhiaw at 09:30 am
                                       NongKhiaw to Luang Prabang at 09:00 am, 11:00 am and 14:00 pm
Northern Bus station: Luang Prabang to NongKhiaw at 09:00 am, 11:00 am and 14:00 pm                                     
1 hour boat trip: NongKhiaw to Meuang Ngoi at 11:00 am and 14:00 pm
                               Meaung Ngoi to NongKhiaw at 09:00 am
Tourist Information Center at NongKhiaw: Open Monday to Friday  From 08:00 – 11:30 and 13:30 – 16:00