River Journeys: Pak Ou Day Trip
Learn how to make Lao rice whiskey, discover thousands of Buddha statues inside caves, marvel at the beauty of the surrounding limestone landscape and spend some time floating along the Nam Ou River.
There are a number of ways to reach Pak Ou caves. The boat trip along the Mekong takes about 1.5 hours. You can also take a tuk tuk or ride a motorbike to Pak Ou village and get a small boat across the Mekong to the caves.
For many years King Soukhaseum, who reigned from 1838 to 1851, used Donkhoun Island as a rest stop on his way back from making merit at Tham Ting Caves. Soukhaseum and his family grew vegetables and fruit on the island – and had a few dwellings where they could relax whilst enjoying the views of the Mekong. The island, which now is home to a small temple, is not used for anything much today but it remains a sacred place for Lao people and is worth stopping to have a walk around on your way up the river.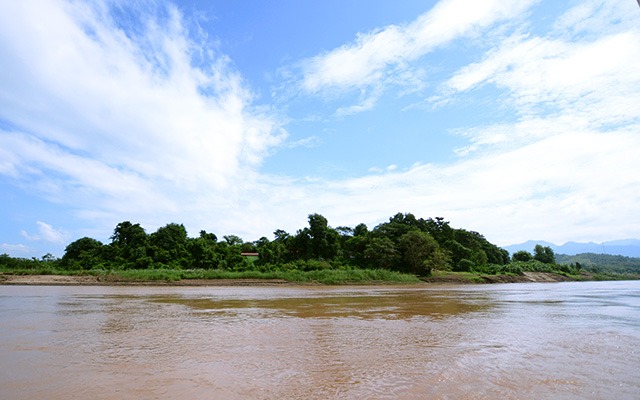 No matter what village you visit during your time in Laos, one thing that you are certain to get offered if you share a meal with the locals is a shot of rice whiskey, known as lao-Lao. If you're wondering how this potent drink is made, there's no better place to find out than Ban Xang Hai, a small village on the banks of the Mekong on-route to Pak Ou Caves. Here, locals continue to use traditional methods to make this much-loved brew – cooking sticky rice over open fires and storing it in large clay jars. There are three 'kitchens' that take turns at offering tourists the chance to watch the whiskey being made at various times of the day. There are also many village stalls that sell all varieties of lao-Lao, from the clear liquid which burns as it goes down with its 50% alcohol content, to the milder and sweeter black sticky rice brew at 15%. Lao people believe that lao-Lao that has been bottled with the body of a snake or scorpion has strong medicinal properties so you will see a few critters behind glass as you walk around the village. Most of the boats that offer tours from Luang Prabang to Pak Ou will stop at the whiskey village.
Known by tourists as Pak Ou Caves due to its proximity to Pak Ou village, there are actually two separate caverns at this location, which is locally known as Tham Ting. The lower cave is the most popular and widely photographed of the two. It's more like a small opening in the cliff-face rather than a cave. Ever since Buddhism was introduced to the area, local people have been bringing statues and placing them inside this cave as a way of making merit. There are thousands of Buddha statues in this cave and they make for quite a spectacle.
The staircase to the left of the lower cave leads you through the forest to the upper cave. During Lao New Year the Royal Family used to travel to the cave, along with many monks and local devotees, to pour water over a sacred Buddha statue as part of Pi Mai celebrations. There isn't much to see inside the cave but there is a stunning doorway with ornate metalwork that is well worth the walk.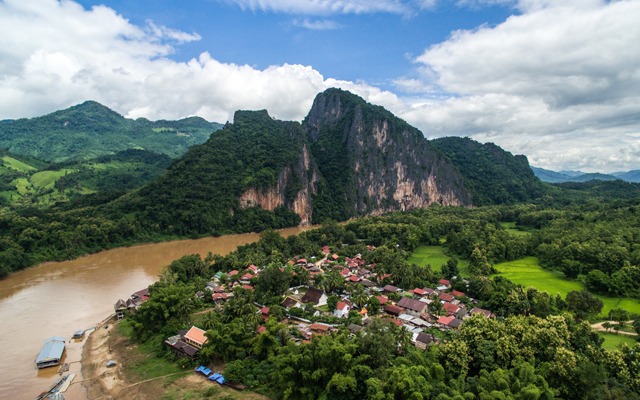 Ask your boat driver to take you for a little cruise down the Nam Ou, directly opposite Tham Thing Caves, to enjoy the spectacular scenery. This part of the river features majestic cliffs with burnt orange rock faces that stretch from the sky right down into the river below. Be sure to have your camera ready!
There are several waterfront restaurants at Pak Ou which offer cold Beer Lao and a variety of local dishes as well as some western menu items, but if you really want to have a memorable meal during your Pak Ou day trip, take a boat up the Nam Ou to Kamu Lodge and treat yourself to a feast by the river. This open-air thatched-roofed restaurant is surrounded by green rice paddies and serves up the fresh local produce – grown onsite in their organic vegetable garden. The menu is inspired by Khmu cuisine. Be sure to call ahead to let them know you are coming so they can cater for you at their restaurant.
Another option for lunch is to head to the elephant camp in Pak Ou village where you can hop on one of these gentle giants and head into the river where you can bathe and frolic together. The elephant camp provides simple lunches on their riverside balcony, as well as the experience of dining with powerful pachyderms roaming below!