Caves And Vistas: Muang Nan Day Trip
Soak in the serenity of Kacham waterfall, walk around a traditional Khmu village, slurp some delicious noodle soup by the roadside and discover the cathedral-like Tham Thia cave were few tourists have ventured before…
One of the lesser-known waterfalls in the province, located about 40 kilometres from Luang Prabang, this stunning location is a great spot to dip your feet in the water and take some photos. There is a walk you can do to the top and also a restaurant with a balcony overlooking the falls where you can enjoy a cold drink while you take in the beauty. To get to Kacham, take Highway 13 out of town. At Xieng Ngeun take Highway 4 towards Xayaboury.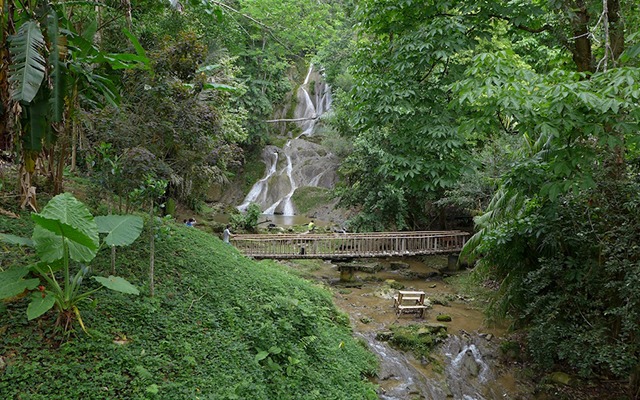 2. Hmong/Mien/Khmu villages
There are many ethnic minorities living in villages along the road to Muang Nan. Stop at any of these villages and take a walk around. You will be able to see traditional bamboo thatched huts, people going about their 'every day' activities such as weaving baskets, washing clothes and cooking on outdoor fires. Please be respectful of the local culture by keeping your distance and only taking photos once permission is granted.
For lunch, stop in Muang Nan town for a bowl of steaming hot noodle soup at one of the roadside restaurants. If you head a short distance out of town on the main road, towards Xayaboury, you'll find Mittaphab Beer Garden which serves lots of delicious dishes – whole fish steamed in lime juice with chillies, stir-fried vegetables, spicy soup and Larb with sticky rice. There are a number of beautiful temples in this town that are worth visiting including Wat Si Muang Khun.
4. Tham Thia (Tham Nok Eng) Cave
According to the sign at the entrance, this is one of the deepest cave in Laos and it's one that few tourists have had the pleasure of exploring. To find the cave, take the turnoff to Ban Thaly and follow the road until you see a large blue factory on the left. Take the dirt road on your right but be aware that it is only accessible for 4WD vehicles/dirt bikes in the rainy season and even then, some vehicles will struggle to navigate the mud. We advise to drive to the half way point (you will see a few small huts and a pond) and walk the remaining distance, which is about 20 minutes. You will reach two huts where you can ask for Mr Hom Peng who can take you up to the cave for a small fee. The hike to the entrance is steep and slippery and will take 20 minutes. You will be able to walk around inside the cave and observe stunning stalagmites and stalactites as well as hundreds of swallows which live inside. Due to the large entrance, most of the cave can be explored without a torch but be prepared for the intense smell of bird droppings and please take care with your footing when inside the cave as there are no hand rails or ropes for support.
5. Sunset and dinner in Xieng Nguen
For breathtaking sunset views of the surrounding mountains and delicious Lao food, stop at Xieng Nguen on your way back to Luang Prabang. You'll need to turn off Highway 4 and onto Highway 13, as if you were heading towards Vientiane, to get to Xieng Nguen. Follow the road through the town and up to the hilltop where you'll find several restaurants and guesthouses overlooking the Nam Khan. We recommend View Xiengnguen, which has great food as well as perfect panoramic vistas.