Hidden Treasures: Chomphet Day Trip
Find out why Chomphet, also known as Diamond Mountain, is one of Luang Prabang's best-kept secrets by setting off on this day trip, which will allow you to explore ancient temples and a traditional pottery village – as well as fly through the tree tops on a zip line!
The best way to explore Chomphet is by bicycle or motorbike. You can put your vehicle on the public car ferry, which shuttles people across the Mekong River on a regular basis throughout the day. To get to your first destination, head up the hill, take the first right and head through Ban Xieng Maen village.
The most beautiful and colourful temple in Chomphet District and one of historical significance to the region, Wat Xieng Maen was originally built in the 16th century, modeled on the famous Wat Xieng Thong temple. It features a traditional thatched roof with ornate fixtures. The floors of this temple are covered in very charming black, grey and white French floor tiles, which date back to the 19th century.
You will notice a very small temple with a lock next to the main building. It was built by the Prime Minister of Laos in 2013 in order to protect some of the temple's precious Buddha statues from being plundered. There are over 200 statues hidden in this little Buddha house – including one dating back to the 13th century.
It's a bit of a hike to Wat Chomphet but climbing the 123 steps is well worth it. Built in 1888 by the Thais, this might not be a very well maintained temple, but it has the best views around – offering a stunning panorama of the surrounding hills, Mekong River and Luang Prabang town. At the top of the staircase are two stupas that house the bones of the wives of one of the former kings of Laos. The temple itself is small and in a decayed state but there is talk of restoring it to its former glory in the coming years.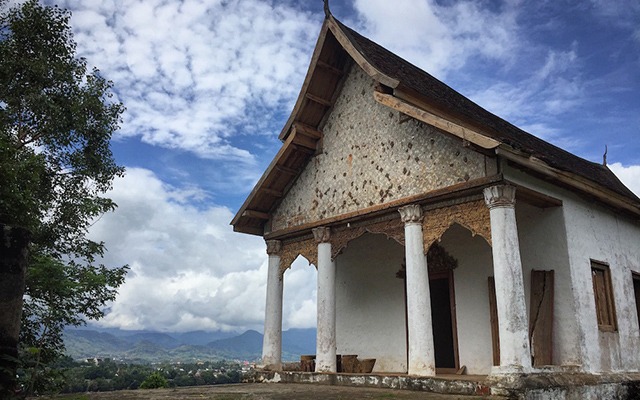 Subscribe to our YouTube Channel
Be sure to give yourself plenty of time to enjoy this temple, which is located on a shady patch of land by the Mekong River. As you walk up the cement staircase to the entrance of the temple grounds, take a look to your left and marvel at the sight of a prehistoric-looking palm tree with gigantic fronds. Moving around to the temple entrance, the first thing you will notice is two menacing looking figures that have been painted on either side of the doorway. The temple, which was built in the 18th century, became the sleeping quarters for Chinese soldiers in 1890 when they came to do battle in Luang Prabang. The story goes that the soldiers were not able to enjoy a good night's sleep due to the spirits of the temple which kept them awake, so they painted this mural to protect the troops and ensure a peaceful slumber during their stay. You'll also find magnificent paintings on the walls inside the temple depicting the 10 lives of Lord Buddha – including a very graphic scene involving several giant fish with blood-covered teeth devouring villagers.
Wat Long Khoun is historically significant as it's where several Lao princes came to meditate before taking to the throne. At the back of the temple compound, on an elevated piece of land, you'll find two old wooden houses and a long oblong white meditation room without windows. All of these buildings served as places for royalty to meditate over the years. You are welcome to enter the long white building on the upper terrace which was used on the full moon and dark moon as a place for monks and princes to pace up and down, with their eyes closed, in meditation.
4. Sakkarin Cave/ Xieng Man Cave
Did you know that Lao people believe that if water drips onto your head inside a cave it will bring you good luck?
This small cave can be found a short walk from Wat Long Khoun. Your ticket for the temple will include a local guide to walk you to the cave and unlock the gates for you. The cave was used as a place of meditation for the royal family and contains a small white stupa inside which houses the bones of a former king. On a lower level of the cave you'll find a natural rock formation that locals believe looks like an eagle.
There are two ways to return back to the boat pier after visiting this temple. You can go back through Ban Xieng Man or keep following the trail, which loops back via a dirt road.
There are not many options for food on this side of the river so we recommend bringing some snacks in your backpack. Two doors down from Wat Xieng Man you'll find a local-style noodle shop, located outside a home, where you can enjoy a bowl of steaming chicken, beef or pork broth. There's also a lovely restaurant with a balcony overlooking the river – located right above the boat pier – which serves a range of traditional Lao and Thai dishes.
The people of Ban Chan ('pottery village') have been using traditional methods to make pottery for centuries. The story goes that the first king of Laos, back in the 16th century, held a big celebration after winning a battle. He asked different villages to bring different things to the party. He requested the people of Ban Chan bring clay pots. Now, many, many generations later, the families of Ban Chan still carry on this tradition – pulling the clay from the earth on site and using their hands to create beautiful vessels.
You will find Ban Chan just 4 kilometres from the boat pier at Chompet, which makes it an easy bike ride away. Once you enter the village, turn right at the T-intersection and you'll find the pottery site 100 metres on the right hand side of the dirt road. There's a boat pier at Ban Chan, which means that if you feel weary after walking or riding, you can always load yourself and your bike onto a boat and head back to Luang Prabang. If you want to make your own clay pot, there are tour companies in Luang Prabang that can arrange a lesson on site for you.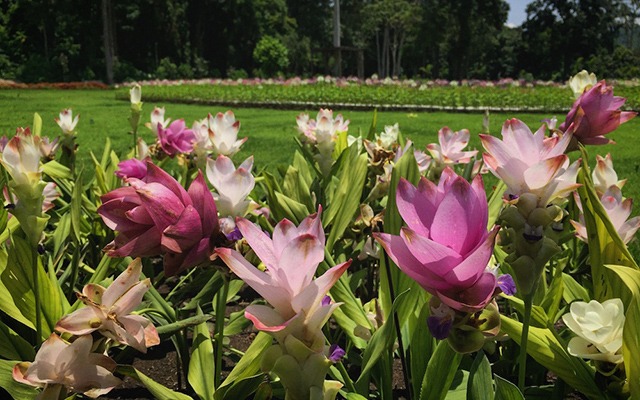 Whether you're a nature lover or thrill seeker, this stop is bound to satisfy your desires. The Lao Green site has a range of activities on offer including zip lining, aerial obstacle courses and challenging hikes – all set in a lush green jungle. If you prefer a more relaxed pace, there's a café at the foot of Hoi Khua Waterfall where you can enjoy a cup of coffee as butterflies dance around you. There's also a rainforest walk to a large flower garden.
You can reach the Lao Green site by riding your bike 15 kilometres inland from the car ferry pier at Chomphet but be warned that the road is rough and in the rainy season there are sections that are challenging to pass. Alternatively you can book a transfer from the company's website which includes a private boat and vehicle to the entrance of the park.