We are often asked this question here in the Tourism Office:
"Where should I go after Luang Prabang? What else is there to see?"
Oudomxay is one of the most accessible provinces in northern Laos – located about five hours from Luang Prabang on Route 13. Featuring rugged mountains shrouded in mist, the province has three main rivers running through it – the Nam Ou, Nam Beng and Nam Tha. It's also home to 23 ethnic minorities including Khmu, Hmong and lowland Lao – each with their own traditions and languages.
In terms of temples, no visit to Oudomxay is complete without stopping to take photos at Phu That which can be found at the top of the hill in the middle of Meuang Xay town. Here you will not only get to see the beauty of this stupa, which is thought to have been built originally by the Thai Leu during the 14th century, but you'll also get panoramic views of the city.
For shopping, head to the Productivity and Marketing Center of Oudomxay which promotes and sells local goods that have been handmade by local villagers. There's an opportunity to purchase bags made from natural materials, as well as a range of clothing that has been made using natural dyes.
Cool town at Tad Lak Sip-et, also known as '11 kilometres waterfall' – located, according to its name, 11 kilometres out of town on the road to Luang Prabang. This lovely waterfall is a favourite spot for locals to picnic and swim.
The province's latest tourism offering is a luxury resort located beside a clear flowing river in the midst of 6000 hectares of forest. Nam Kat Yola Pa is not your average hotel. It has a focus on preserving nature and supporting local communities, and prides itself on the motto: "Using tourism as a tool for conservation".
With a striking entrance foyer featuring locally harvested bamboo, the resort has 31 villas including four with private plunge pools. Also onsite – an organic farm where they grow strawberries and grapes; a day spa for those who want some relaxation; an outdoor fitness centre overlooking the river; and an infinity pool with mountain views. Most of the staff who work at the resort are from the Khmu village, located on site, where guests can also spend a night if they wish to experience a 'homestay'.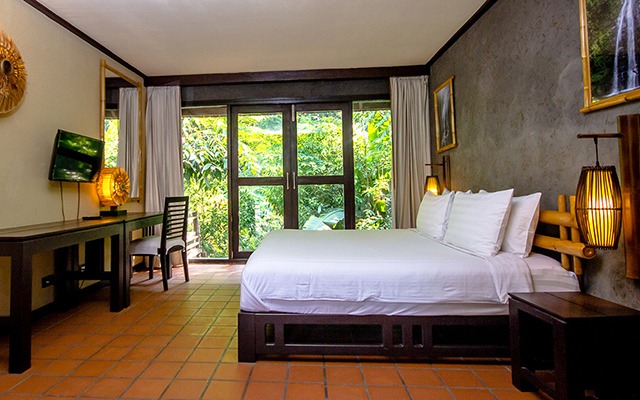 The owner of the resort has created a kind of nature-theme-park on site, where locals and tourists can enjoy a range of activities. The idea is for these activities to have a minimal impact on the environment:
Zip-lining
Abseiling
Cycling
Trekking
Rock climbing
Overnight tree house stay
Elephant riding
Farm working
Four-wheel dirt biking
Water park